Hi!!
Today, since the boys kept asking me for cookies, I decided to try a new recipe out!
I was browsing through my usual 100+ blogs that I read weekly and stumbled upon this amazing looking recipe!!
This amazing recipe is from Jessica at
How Sweet it is
So lets get started!!
1. Preheat your oven to 325 degrees, Meanwhile, add the butter and peanut butter to a microwave safe bowl and melt, I did it in 30 second increments just like she recommended :) Let cool completely.
2.Mix your flour and baking soda together in a bowl and set aside. In another bowl, Mix the melted and cooled butter and peanut butter with the sugar and brown sugar until combined.
Add the egg and egg yolk and vanilla and stir, (yum..I love vanilla)
Gradually add the flour and baking soda mixture until the dough forms. (On her recipe she said that it may be crumbly and you may need to add a teaspoon of milk, but I didnt need to)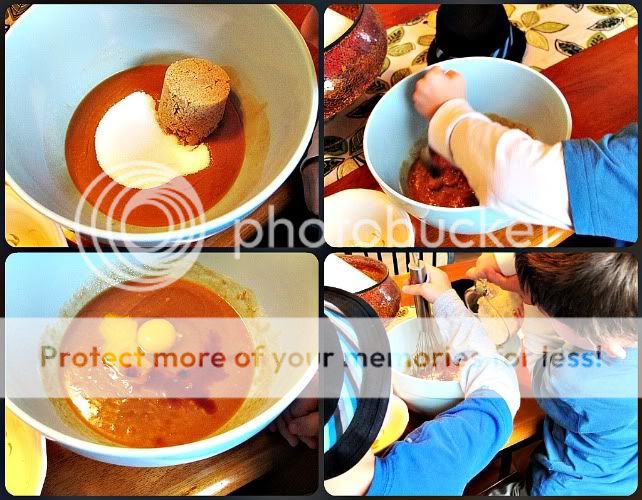 Fold in the YUMMY chocolate chips.. (I used mini chocolate chips, Yes.. you are seeing that right, we used 2 cups of chocolate chips..) I didn't mean to and was wondering if its supposed to be this chocolate chippy~!? lol
Roll them into a golf ball sized balls, and bake for about 10-12 minutes or until the edges are brownish :) I love this recipe because the cookies didnt melt into a big mess in the oven!
Dont they look.... PERFECT :D yum yum!
What you will need :
* 2 cup All Purpose Flour
* 1/2 teaspoon Baking Soda
* 8 Tablespoons of Salted Butter (Melted and Cooled)
* 6 Tablespoons of Creamy Peanut Butter (Melted and Cooled)
* 1 Cup Brown Sugar
* 1/2 Cup Sugar
* 1 Egg and 1 Egg Yolk at Room Temperature
* 2 Teaspoon of Vanilla
* 1 1/2 cup of Semi-Sweet Chocolate Chips :)
Again, this Yummy recipe is from Jessica at
How sweet it is
Hope you all try it, We all love it!!
-Christie